Gallery - The Beatles Quilt
The Beatles Quilt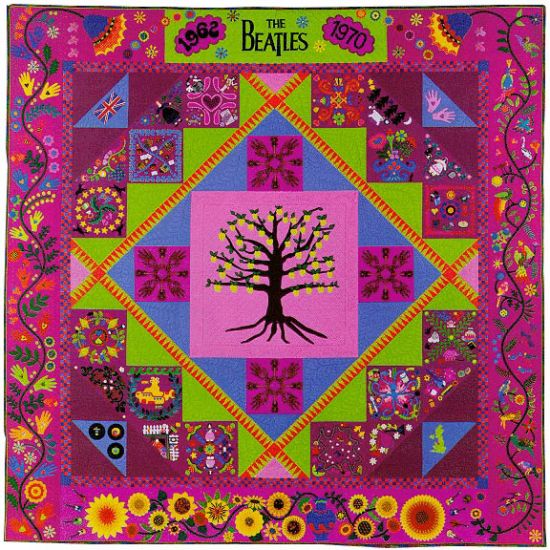 by Sue Nickels and Pat Holly
Best of Show 1998 AQS Show
In the collection of the Museum of the American Quilters Society Paducah, Kentucky
Machine pieced, appliquéd and quilted. Cotton fabric, cotton threads and cotton blend batting.
Sue and Pat made this quilt to remember the music of the Beatles. It is the era these sisters grew up in and the music brings back many memories of those times. Pat and Sue divided equally the work of designing and stitching the appliqué blocks and borders. Using the folk art style quilts of the 1800's for design inspiration they came up with original interpretations of the lyrics to many of the Beatles songs. The appliqué is done using a stitched raw edge fusible machine technique. Pat did most of the precision piecing and Sue did most of the machine quilting. The quilt took about two years to make. The quilt has been a wonderful addition to the museum collection in Paducah. Many visitors try to figure out the symbolism in the blocks, which include the yellow submarine, octopus's garden and Penny Lane to name just a few.
For these sisters, the quilt is memory quilt, the songs bring back thoughts and images from those turbulent and eventful times.