2018 Supply List
General Supply List
This general supply list gives the basics of what you might need. Please adjust your personal supply list according to size and what methods you will be using to create your quilt. Please contact us if you have any questions?
*Sewing Machine - Don't forget your foot pedal, power cord and tray table!
*We recommend bringing your good sewing machine- small travel machines have limited stitch options.
1/4" foot for piecing
Open Toe Applique Foot (sometimes called an open toe embroidery foot)– a must for machine applique
Darning Foot – open toe version works best, and Walking Foot for machine quilting
For machine applique projects:
Scissors – small embroidery type, good for precise cutting of applique pieces
Paper Backed Fusible Web – we use SoftFuse from Shades Textiles (available for purchase)
Spray Starch – we use Best Press unscented
Bring if you have – circle template, small tweezers
See fabric and thread below
For machine piecing projects: See fabric and thread below
For machine quilting: if you want a mini-machine quilting lesson, bring four 12" squares of muslin, two 12" squares of batting and 20 safety pins
Miscellaneous supplies:
Pencil, pencil sharpener, fabric marking pencil, hand sewing needle, straight pins
Sewing Machine needles – we use Schmetz Microtex Sharp 80/12 for average weight thread
Extension cord, multi plug strip, small lamp for near your machine.
Iron and small ironing board (we will provide three of each) Not everyone can use their own personal irons.
Matt board, ruler and rotary cutter (we provide one large mat board, multible rulers and cutters)
Fabric:
100% cotton – we like to shop at our quilt shops and use good quality fabrics. We do pre-wash cotton fabric.
Fabric amounts depend on what you are working on. Bring enough fabric based on the size of the project you will be working on. There are quilt shops close by for purchasing fabric and supplies.
Thread:
For piecing – we like 50/3 and 50/2 cotton threads (Mettler, Superior and Aurifil). Bring to match both dark and light fabrics.
For applique – we like 50/3 and 40/3 cotton threads (Mettler and Superior – Masterpiece). We usually match thread color to the applique fabric.
For quilting – we like all of the above mentioned threads and usually match thread color to the fabric.
There will be some supplies available at the retreat to purchase. This includes SoftFuse paperbacked fusible web, scissors, etc.
Sewing machines will be available for those who are flying. Please let us know if you need to borrow a machine from us at the retreat. We must have your request to reserve your machine. Sue- nickquilt@aol.com
Specific Supply list for Trip Around the World small projects:
*Do not do any pre-cutting or prep ahead of time- you will learn complete technique "AT THE RETREAT!"
In late spring, we will email (and post here) many more ideas for great "Trip Around the World" quilts (larger projects will be included) and fabric suggestions for these quilts.
Design your own small project:
Design supplies: colored pencils, graph paper (4 squares to 1")
Small project: 1/2 yard 8-12 different fabrics in gradations (prints or solids) This project not suitable for large prints (these can be used for a border)
Another option is this small quilt project:
This small quilt called "Stars across the Universe" uses the Trip Around the World pattern as background and stars are appliqued on the pieced top. If you would like to work on this project use these fabric requirements. This can be done in different colors and the applique can be floral. Machine quilting this project will be covered. This is a great retreat project to learn piecing, applique and quilting!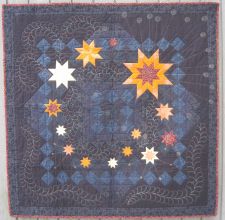 Stars Across the Universe 40" x 40"
Fabric Requirements
Background fabric- 1/2 yard 7 different black fabrics (prints, solids, tone on tones will work with subtle lighter to darker shades)
Corner triangle fabric- 1 yard black (can be one of the 7 fabrics used in background)
Applique fabric- 6 fat quarters of fabric suitable for stars (my stars are gold, yellow and tan)
Border fabric- 1/2 yard black print or solid
Thread for piecing and applique
Optional supplies for machine quilting your project:
Backing fabric- 44" x 44" square black print (1 1/2 yards fabric)
Batting- 44" x 44" cotton or cotton blend (I use Hobbs Heirloom)
Binding fabric- 1/2 yard black print or solid
Thread for quilting
100 safety pins (size 1) for basting your quilt project
Kitchen dishwashing gloves (good quality) or machine quilting gloves such as Graberoo's
Kwik Klip for closing pins
Extra black fabric, batting and backing to make two 12" x 12" sandwiches for machine quilting practice.