Gallery - Sue Nickels Quilt
New York State of Mind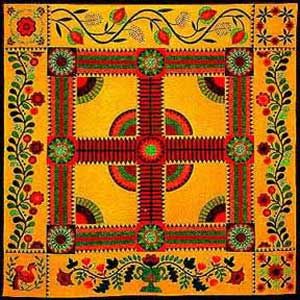 by Sue Nickels and Pat Holly

Machine pieced, appliquéd and quilted. Cotton fabric, cotton threads and cotton blend batting.

This quilt was part of an invitational exhibit called Double Visions: Companions and Choices. Watercolor artist Rod Buffington invited quilt artists to make a quilt using a certain pattern and he created a watercolor painting to hang beside the quilt. Pat and Sue worked on this quilt in the same format their other collaborative quilts were done. They shared in the appliqué design and stitching. Pat did the precision piecing and Sue did the machine quilting.