Fees, Requirements, Classroom Requirements, Helpful Workshop Information
Workshops are available as they are described. Custom designed workshops are also available. Groups wanting multiple day options, please contact Sue for specifics. Some workshops can be taught in a half day format.
Sue would like to book one lecture and at least one workshop with a group whenever possible.
Fees for 2016 and 2017*
All Day Workshop (6 hours)
Half Day Workshop (3 hours)
Lectures (1 hour)

$700.00
$425.00
$500.00
*Fees for 2018 will go up $50.00 each
Classroom Requirements for Guilds, Conferences and Shops
Class size: 25 students with table space for work and machines. If space is available, Sue will take a few more students at $20.00 per student.
Sue needs to be in the classroom 1 hour prior to workshop starting time to have adequate time for set up.
Sue uses a camera and projector in every class for live video presentation of demos. Please provide a screen (white is preferred), 2 tables and three prong extension cord at the front of the classroom. Sue requests a Bernina Sewing Machine (newer generation) to use in the classroom for flying trips or the name of the local Bernina Dealer. (This information will be included in Sue's contract with your group).
Travel, lodging and meals will be provided by the guild or organization. Sue requests Delta Airlines and will make those arrangements after contacting group for details. Airfare reimbursement is appreciated within a month of booking flight. Sue requests a private non-smoking hotel room for her lodging.
Sue can not send actual samples of her work to groups for advertising. Her books & DVD can be sent ahead and photos from website workshops and gallery pages can be used for advertising.
Sue will send a contract to your group and once the signed copy is returned the dates will be reserved for the group.
When selecting more than one workshop of the same subject - Machine Quilting workshops or Machine Appliqué workshops - there will be some repeat information on basic supplies and techniques. Each workshop has its own individual project, concept or subject, but basics will be reinforced in all workshops. Please contact Sue if you would like help deciding what workshops to select for your students.
All day workshops are planned to have 6 hours of classroom time. Please schedule lunch as an extra ½-1 hour. Example - workshop starts at 9am lunch from 12-12:30 ends at 3:30pm.
Lecture Requirements
Sue is using Powerpoint for all lectures. Sue will bring her own projector and computer. 
For all lectures, please provide a screen (white preferred), projector table and a long three prong extension cord. If possible, please provide a microphone, podium and a table at the front of the room for quilts and sales of books.
Important Information for Workshop Participants
For all workshops:
Please bring the sewing machine you will be using to do the techniques successfully at home. Sometimes small travel machines don't have the stitches and the ability to do the techniques properly.
Bring your sewing machines tray table or extension bar- just having the free arm can make stitching more difficult.
Some items on the supply lists are available at my store on this website.

Some items will be available to purchase in class- my books, my DVD, King Tut Tone on Tone threads, marking pencils, scissors and Soft-Fuse.
My books are companions to my workshops. They are not required to take the workshop.
I put extension cords/multi-plug strips on all my supply lists. Some groups provide these and students may not have to bring their own.
Some students like to bring their own light, a cushion for height and comfort. This will depend on the room and chairs used.
For machine quilting workshops:
All machine quilting workshops are for the HOME sewing machine.
Beginner workshops- no machine quilting experience needed.
Students with experience who want to be more successful as a machine quilter can take a beginner workshop.
Intermediate workshops- students should have tried free motion quilting, but do not need to be an expert- that is why you are taking a workshop!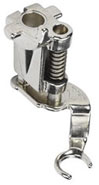 All level workshops- anyone can take from beginner to advanced.

All machine quilting workshops require a darning foot- this foot may be called different things by different sewing machine brands. Free motion foot, stipple foot, quilting foot are some examples of what they may be called.
My favorite is the open toe darning foot. It is the #24 foot on the Bernina.
If you have questions, please feel free to contact me!
For machine appliqué workshops:
Beginner workshops- no machine appliqué experience needed.
Intermediate workshops- These workshops have more complex appliqué concepts, some appliqué knowledge helpful (you do not need machine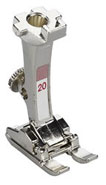 appliqué experience).
An open toe appliqué foot is required for all machine appliqué workshops.

This foot does not usually come with your machine attachments and will need to be purchased separately. It is a foot that is completely open in front of the needle and gives good visibility for stitching. It may be called something different for different brand machines (open toe embroidery for example). It is the #20 foot on the Bernina. If you have any questions about this foot, please email me…
The Blanket Stitch is the preferred stitch for the Stitched Raw Edge Technique being taught. Most machines have a blanket stitch. If your machine does not have a blanket stitch- we will attempt to find an alternate- a small zigzag or blind hem stitch may work. It will not have the exact same look as seen on my appliqué quilts.

Irons will be used for the machine appliqué workshops. Irons and ironing boards are included on the supply lists. Some venues don't allow every student to have an iron and ironing board. One iron and ironing board for every 4-5 students is fine. Some groups take the irons and ironing boards off my supply lists and provide them for the students. The very small mini-irons do not work for my technique. Travel irons are fine.