Classes - Whole Cloth Feathers - Design and Machine Quilting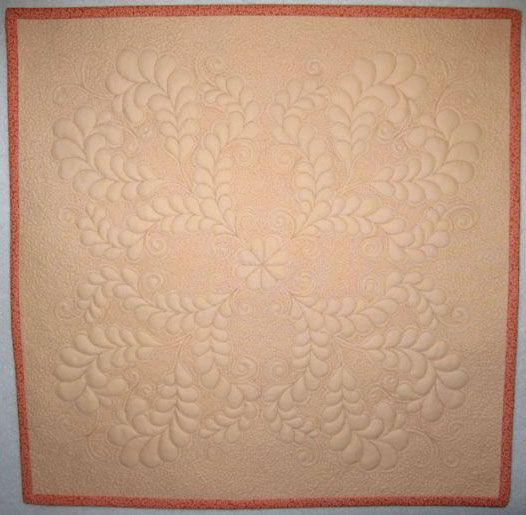 Intermediate - 1 Day
In this workshop, explore the beautiful feather design. Sue has used the feather design successfully on many of her quilts. The feather is the ideal design for free motion quilting and is easier than you think. Sue has been easily designing her own whole cloth feather patterns and will share the techniques. Students can then design their own unique feather project or use Sue's designs. Move on to learning the skills to successfully free motion quilt these great designs! Fall in love with Feathers!


---
To make the best use of class time, mark/trace on 12" muslin squares page 1 and page 2 of handout (full handout will be given in class) the remaining squares will be marked in class. Handouts are provided with supply list link below.
Click link to print a PDF of the Supply List.
---
Supply List

Design Supplies:
5-10 sheets plain white paper (copy paper is fine)
Pencil and pencil sharpener
Black marker- Sharpie fine point
Ruler for drawing and measuring
-Sue will provide tracing paper for the group
Sewing Supplies:
Sewing Machine (bring instruction manual, extension bar or table and all accessories) Don't forget foot pedal and power cord!
Darning Foot- a must for free motion quilting
(Sue prefers an open toe darning foot)
Straight stitch throat plate (optional, bring if you have)
Eight 12" squares muslin
Four 12" squares cotton, cotton blend or wool batting

50 safety pins- size 1 (I use size 1)
Sewing machine needles- 80/12 & 70/10 sharp (Schmetz brand called microtex sharp)
Cotton thread- 50/3 or *50/2 in color to match your project
(I like Superior Masterpiece 50/2 or Aurifil 50/2 thread for this project) *Masterpiece 50/2 threads will be for sale in class.
Fabric marking pencil- I use silver and white, Quilters Choice
Ruler- for measuring and marking
Rubber Gloves- kitchen dishwashing gloves, one size smaller than you wear for dishwashing (I use the fingertips for control in free motion quilting)
Basic sewing supplies- scissors or snips, extra bobbins, hand sewing needle, masking tape
Extension cord/multi-plug strip
Optional, but a good idea- small cushion for extra height, extra light
Please Note- one or two irons and ironing boards needed for class to share.
Small Whole Cloth Feather Project:
18" square solid or ton on tone fabric
22" square backing fabric- I use small matching print
22" square cotton, cotton blend or wool batting
Thread to coordinate with top (mentioned above- one spool for both project and practice is fine…
"Machine Quilting: A Primer of Techniques" is a companion book workshop- not required