Classes - Machine Stipple Quilting and Much More!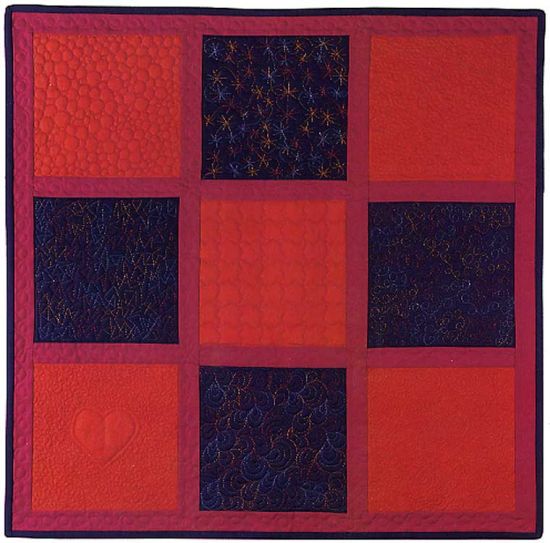 In this all day workshop, free motion quilting will be explored for background areas on your quilt and for overall surface designs. Traditional stipple quilting will be covered as well as many fun alternatives. Some of the variations include: loopy meandering, psychedelic stippling and curvy crosshatching. Students will make a small stipple sampler to showcase these techniques. If you are looking for ways to make your machine quilting different from the crowd, this will inspire you. Some basic free motion quilting skills will be reviewed, then jump into the fun!
Supply List

SEWING MACHINE- bring instruction manual, extension bar or table and all accessories. Don't forget foot pedal and power cord!
DARNING FOOT- a MUST for free motion quilting
(Sue prefers an open toe darning foot)
Straight stitch throat plate- optional, bring if you have one
Eight 12" squares muslin
Four 12" squares cotton or cotton blend batting
Cotton thread- off white and tan, 50/3 ply, 50/2 ply or 40/3
(I use these brands: Mettler, Aurifil, Superior Masterpiece and King Tut)
Optional decorative threads- King Tut Tone on Tones by Sue Nickels is perfect for this project and Sue will have these threads for sale in class.
Sewing machine needles- 80/12 & 70/10 sharp (Schmetz brand called microtex sharp) will work for the threads mentioned above.
Sewing machine needles for specific decorative threads you may bring
50 safety pins- I use size 1
Rubber Gloves- kitchen dishwashing gloves, one size smaller than you wear for dishwashing (I use the fingertips for control in free motion quilting)
Marking pencil- I use Quilter's Choice, silver and white
Pencil sharpener
Ruler for marking straight lines, approx. 12"
Basic sewing supplies- scissors or snips, extra bobbins, hand sewing needle.
Extension cord/multi-plug strip
Optional, but a good idea- small cushion for height, extra light
Project-
Nine 7 ½" squares cotton fabric in solids or tone on tone print
(Piece this into a nine patch, I used 5 squares one fabric and 4 squares another fabric.) *see note below
One 25" square for backing fabric
One 25" square cotton or cotton blend batting
Thread for project (brands I like are listed above)
Baste this quilt project before coming to class (I use safety pins to baste my quilts- every 3-4 inches and I hand thread baste the outside edge)

*Sue's book "Machine Quilting- A Primer of Techniques" features stipple sampler (Page 93) that can be used for this project.
Click link to print Supply List