Classes - Machine Appliqué Flower Basket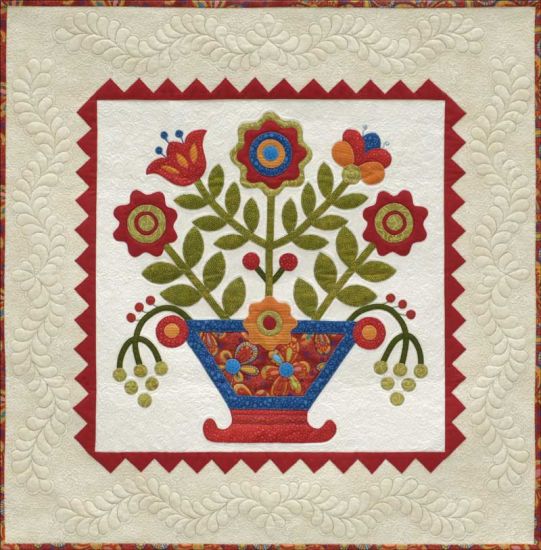 Intermediate - 2 day

In this workshop learn how to appliqué using a quick raw edge fusible machine technique. Ashley's Flower Basket, the first pattern in a series of flower basket designs Sue has created for JWD Publishing will be used in this workshop. Learn the fine points of machine appliqué including perfect points, neat curves and creative surface embellishments. This technique is the focus of the new AQS book "Stitched Raw Edge Appliqué" co-authored by Sue and her sister, Pat Holly. Quality workmanship is the priority in this workshop!
Supply List

Sewing Machine- Blanket stitch used
Don't forget your foot pedal and power cord!
Open Toe Appliqué Foot- a must for machine appliqué
(sometimes called an open toe embroidery foot)
Darning Foot- use for surface embellishments
Scissors- small embroidery type, good for precise cutting of appliqué pieces
Sewing Machine Needles- 80/12 sharp (Schmetz brand called Microtex sharp)
Paper Backed Fusible Web- 1 yard
I use Soft Fuse and will have this for purchase in class. Please do not bring Heat and Bond products or Lite Steam a Seam 2 or Steam a Seam 2 (Lite Steam a Seam is fine)
Spray Starch (I use Best Press, Niagara or Faultless original weight)
Iron and small ironing board (one for every 4-5 students)
Extension cord/multi-plug strip
Basic Sewing Supplies- pencil, pencil sharpener, hand sewing needle, straight pins, small tweezers. Bring if you have- circle templates.
Mat board, rotary cutter and ruler (These can be shared)
Extension cord/power strip
Fabric: 100% cotton (I like to pre-wash and press)
Block background- 2/3 yard. Cut a 20" square and
spray starch before coming to class to save time. Bring
remaining background fabric to use for practice.
For Appliqué: 8-10 fat quarters of assorted coordinating
prints and/or solids.
Bias Stems and Leaf Appliqués- ½ yard
Bias Branches- 1 fat eighth
Dogtooth border- 3/8 yard
Outer Border- 7/8 yard (28" x 28" square)
Thread: colors to coordinate with appliqué fabric
Sue's favorite for machine appliqué include 50/3ply and 40/3ply cotton threads. *Sue will have a selection of her King Tut "Tone on Tone" threads for sale in class.
The following are not needed in class but will be needed to complete the quilt: Binding- 3/8 yard
Backing- 1 yard
Batting- 32" x 32" square
Please note: there will be a pattern fee of $8.00


Click link to print Supply List