Fall 2022
Thank you for visiting my website. My sister, Pat Holly and I are usually preparing for our fall retreats and we will really miss seeing all of our retreaters this fall. Pat and I are still evaluating what the future holds for the Hollygirls Quilt Retreats. At this time we are still on hiatis!
The good news is I am teaching at 2 conferences this fall. In September, I will be in Oaks, PA for the Pennsylvania National Quilt Extravaganza. I haven't taught here for quilte a while and I am excited to be back! I will also be at the Pacific International Quilt Festival in Santa Clara, Ca in October. At both of these conferences I will be teaching ruler work classes using my new rulers! Please visit www.quiltfest.com for more information on how to sign up for these classes.
I am also excited to announce a new online rulerwork class. This class will be out sometime this fall. It will be an Iquilt class and will be available from The American Quilters Society. As soon as I have more information I will let you know!
I am excited to announce that my new rulers are now available for purchase. I have a straight line ruler and a circle wedge set. Read more about my rulers and purchase my rulers HERE. I filmed an American Quilters Society IQuilt class that shows how I use my new rulers and this will be available Winter 2022. I will post here when this class is available. Here is one of my quilts quilted using my rulers: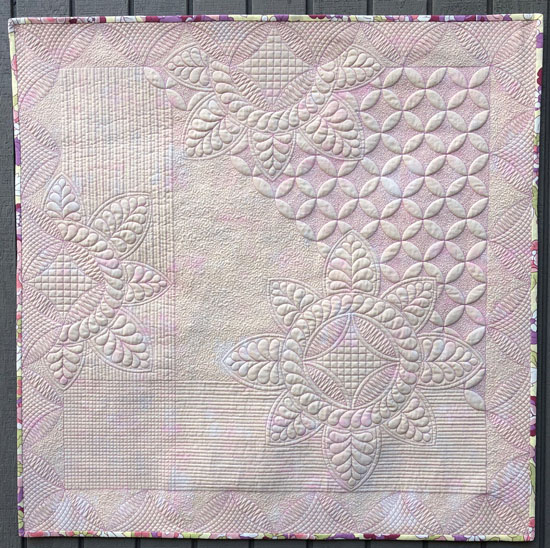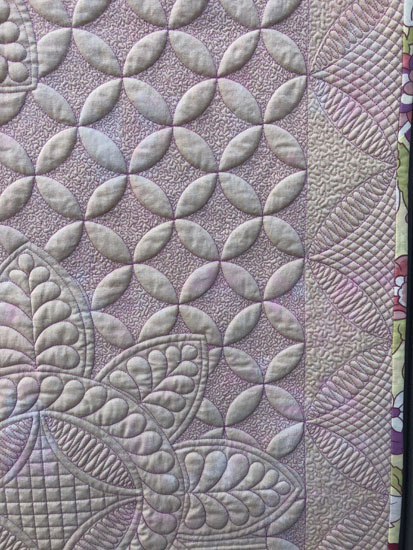 Please take a look a my Ruler Work classes on Creativebug!
NEW CREATIVEBUG CLASS- ADVANCED RULERWORK!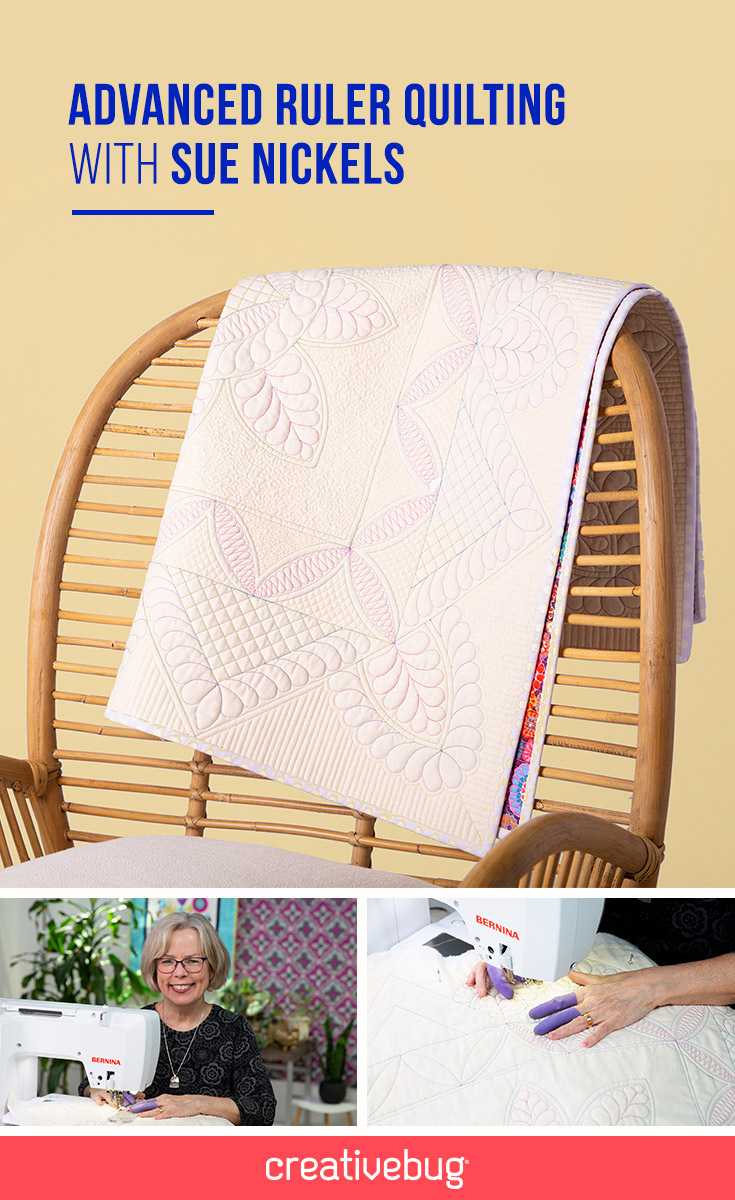 I am excited to let you know that I filmed 3 classes on Ruler Work on the home machine with Creativebug last November. My first class and 2nd class have been available for a few months. My 3rd class will be available in October. Please use the links for my Creativebug Classes! If you are not subscribed to Creativebug.com - sign up for a 30 day free trial using code SUENICKELS. Ruler work has been very popular and I am happy to share my techniques...
Ruler Work on Creativebug More Ruler Work on Creativebug

| | |
| --- | --- |
| I am excited to announce that my daughter Ashley Nickels book "Free Motion Quilting 101" from The Taunton Press will be released on October 15th! This is a great book for beginners and all machine quilters. Pre-orders are immensely helpful to authors and it also means you will have your book delivered on the release date. Pre-order Ashley's book using this link: | |
I look forward to seeing you at quilt events in the future. I will be updating my workshops and lecture pages for 2022. A very popular class this past year has been rulerwork on the home sewing machine and I will be including 2 rulerwork classes with these updates! .
| | | |
| --- | --- | --- |
| Please follow me on | | |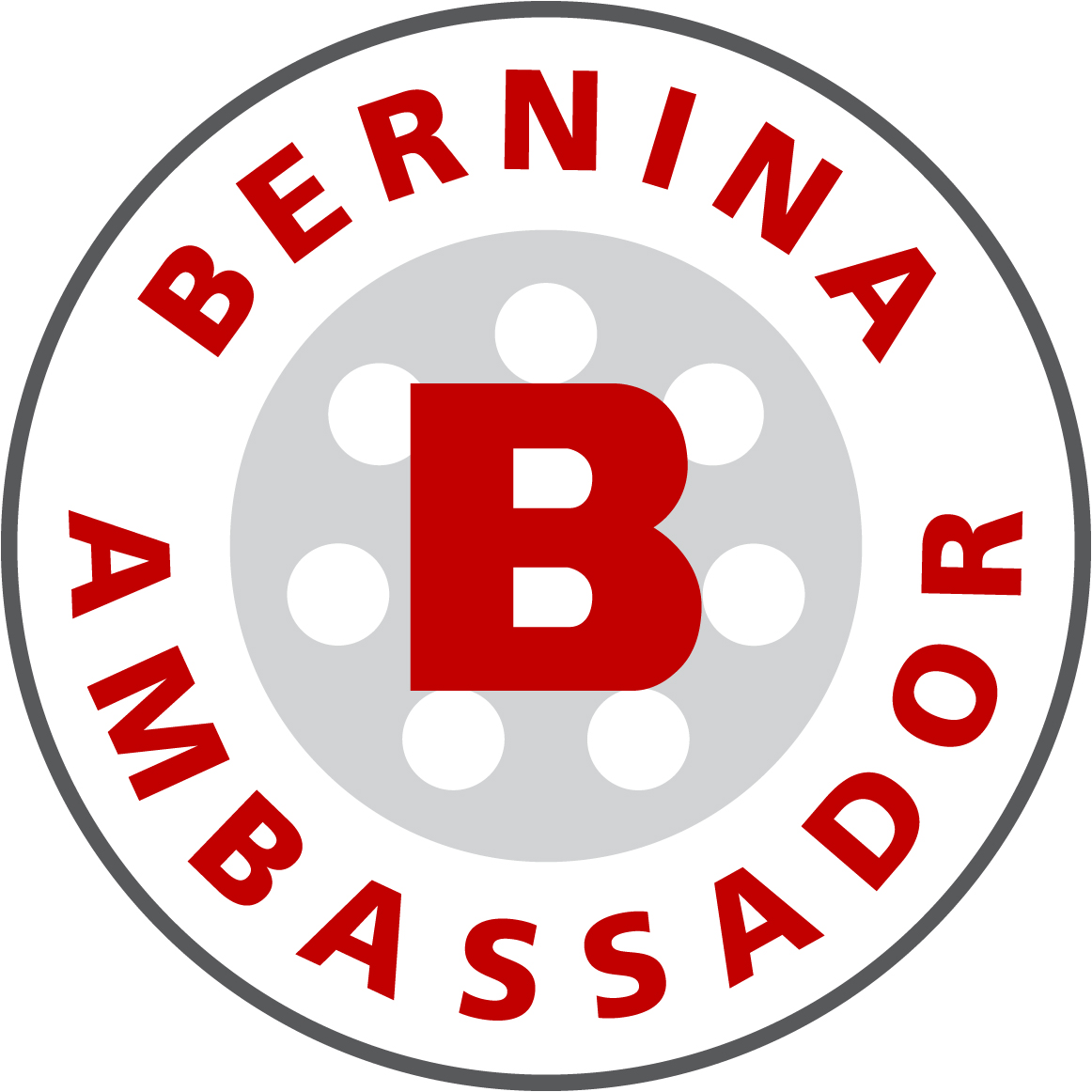 I am pleased that my book, "Fabulous Feathers & Fillers", is still available. Please go to my store to order.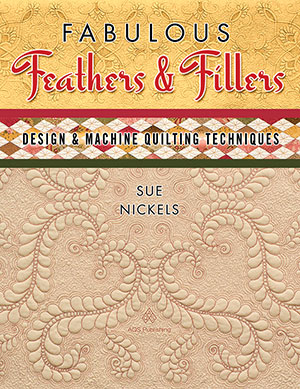 My sister, Pat Holly and I are thrilled to announce that our quilt "Two of Us" won Best Home Machine Workmanship at the 2014 American Quilters Society Show in Paducah. The quilt was the 2013 Block of the Month on The Quilt Show.com with Ricky Tims and Alex Anderson. The quilt will now be part of the permanent collection of the National Quilt Museum in Paducah, Kentucky.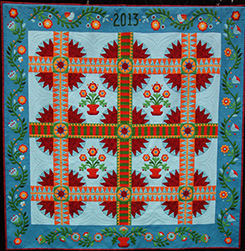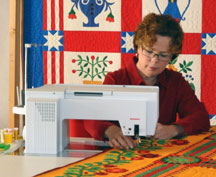 My blog is on a hiatus- I am hoping later this year to have time to revive it!
My biography and fees and requirements have minor updates.
I continue to use a camera and projector in the classroom for demos and it is a fabulous teaching aid. Because of this I have a few extra requirements in the classroom, please be sure to read this under classroom requirements. I have achieved my goal of having my lectures in power point. So for all my lectures, I will bring my own projector and computer and present my images using power point!

My Store has a few of my books- AQS has stopped publishing and I have just a linited number of my machine quilting books avaialble. My patterns are still available. I also carry some of the quilting items I use and sell when I am on the road teaching. My thread line- King Tut "Tone on Tones" from Superior Threads is available from- www.SuperiorThreads.com. I am not currently selling these threads on my website.
I am still using a paper backed fusible web product called Soft Fuse from Shades Textiles for my technique of machine appliqué and I am selling this at my website store. I love this product- it is easy to use and never separates from the paper!!! My favorite marking pencil- Quilter Choice by Roxanne's is for sale with the pencil sharpener that works best with it. I have also added to the store my favorite small scissors that I use for appliqué.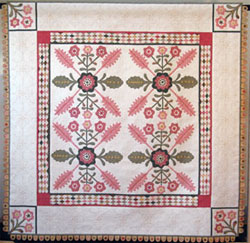 Please visit my Gallery of Quilts page which features a sampling of my quilts. I have the quilt my sister, Pat Holly and I collaborated on called "Tea at Tenby". It won many awards - the most exciting was "Best of Show" at the 2009 Festival of Quilts in Birmingham England! I have included information about some of our other award winning quilts- "The Beatles Quilt" and "The Space Quilt" as I am often asked to explain the details of these collaborative quilts. My sister, Pat has been creating beautiful miniature quilts- look for her page in the "Gallery of Quilts" that showcases some of her work.
I am working on my next goal of creating new quilts in the next year, so look for these soon!

I am enjoying being a Grandma! My granddaughter, Stella is 11 years old and our granddaughter Mabel is 8 years old!
I hope to see you on the road this year, doing what I love to do- teaching machine quilting and machine appliqué. Thank you for visiting my website and please come back soon…
Fondly,
Sue Nickels
contact information: nickquilt@aol.com or 734-649-0637